With so much information out there, it can be difficult to approach the topic of sex with your children.  I've read my share of books on the subject, and today's blog post highlights two authors whose expertise is helpful to parents of boys and girls of all ages.
About Michael Thompson
An expert in child and family psychology, Dr. Thompson is the author of nine books and has consulted with hundreds of schools. In his thirty-five years as a clinical psychologist, he has developed incredible insight into the emotional and social development of boys in particular. Read more about Michael Thompson here.
Raising Cain: Protecting the Emotional Life of  Boys (with Dan Kindlon, Ph.D)
Discussing a nation of boys that is "emotionally illiterate", Kindlon and Thompson set out to answer the question: "what do boys need that they're not getting?"
Learn more
It's a Boy!: Your Son's Development from Birth to Age 18 (with Teresa Barker)
In exploring the developmental, psychological, social, emotional, and academic life of boys, Thompson and journalist coauthor Teresa Barker identify key transitions in psychological and emotional growth, and the many ways in which boys attempt to define themselves.
Learn more
Best Friends, Worst Enemies: Understanding the Social Lives of Children (with Cathe O'Neill-Grace and Lawrence J Cohen)
Thompson and Grace demonstrate that children's friendships are alternately intimate and intense, and cruel.  These two experts use a combination of research and their own experience in schools to give parents a deeper understanding of the motives and meanings of children's social behavior.
Learn more
About Leonard Sax
Dr. Sax is a longtime psychologist and family physician, and has worked with hundreds of schools and spoke on child and adolescent development in eleven countries.  He uses scientific research and his own experience as a parent and a doctor to gain insight into the unique challenges our kids face today.
Boys Adrift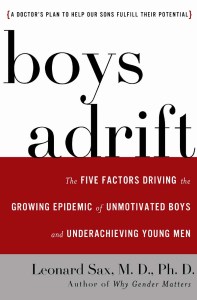 Dr. Sax argues that a combination of social and biological factors is creating an environment that is literally toxic to boys. Outside forces such as overemphasis on reading and math as early as kindergarten, too much time spent playing video games, and overlooked endocrine disturbances are actually causing damage to boys' brains.  The result is a generation of men who are less resilient and less ambitious than their older peers. However, Dr. Sax tempers his argument with simple remedies and action plans that parents can begin to implement right away – and includes inspiring stories of success.
Learn more
Girls On the Edge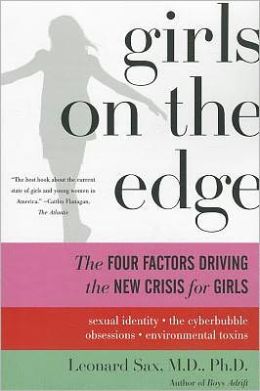 Young women are at risk today. In Girls on the Edge, Dr. Leonard Sax shares stories of girls who look confident and strong on the outside but are fragile within. Sax provides parents with tools to help girls become confident women, along with practical tips on helping your daughter choose a sport, nurturing her spirit through female-centered activities, and more.
Learn more